Kamga, one of the members of the musical duo Hondo, stated to a source that "Me-restart karier adalah hak semua orang,"
Source: instagram.com/@dianpratiwiw
Kamga and Chevrina, formed a new duo named Hondo. The name Hondo is used as a form of reference to the name of the dog adopted by the two of them.
Hondo is one of the three winners that participated in the Go Ahead Challenge. Under the auspices of Hondo, Kamga and Chevrina introduced the brand-new single titled "Thirty."
The song was written when it was Chevrina's 29th birthday, as Kamga believes that birthdays will not be as exciting anymore when you reach the age of 30. This song also contained elements of gratitude for giving the twists and turns of life and the way out.
As the lyrics were sung, Kamga sings with an echo effect that creates a different and new musical experience. Hondo itself wants to unite their hopes and dreams in each of their songs to inspire their listeners.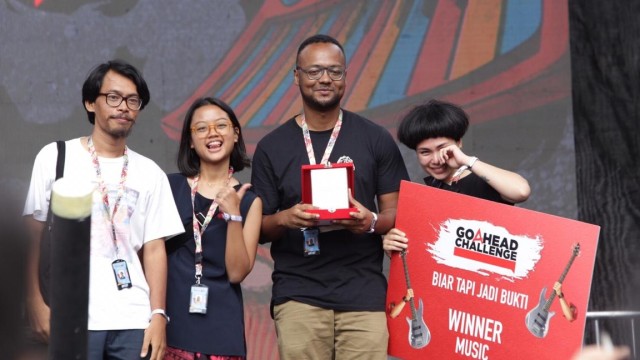 Source: Adhie Ichsan/kumparan.com
Hondo registered in the Go Ahead Challenge (GAC) by putting in only one song as an entry. Hondo entered with the hope that the universe would guide them towards the journey. Kamga and Chevrina no longer thought of the things that could make them regret the fact that they didn't try.
Afterwards, Hondo was named the winner in the music category. Kamga and Chevrina were also given the opportunity to get a creative trip to South Korea.
Future of Tomorrow 2019 by FolkativeLive will present Kamga as one of our speakers, where he will explain how he incorporates technology with stage visual action. Furthermore, Hondo will be one of the lineups for the Wave of Tomorrow event 2019.
Register now here.